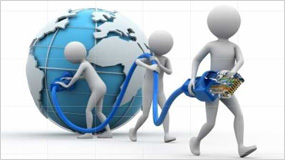 "We are a pure play Internet Service Provider. We offer dedicated and shared ultraband internet access services to businesses and individuals. Our offerings and tariff policies are market driven and hence you can be assured that you will always enjoy highly competitive service offerings incorporating latest technologies whether we advertise or not.

Please do reach us if you feel that your requirement is not satisfied by our current offering and we will try all possible ways to invent some offering for you. We will continue our internal work on newer service delivery methods revolutionized techniques to improve on price and quality to give you both tangible and intangible experiences.

We are open minded to critique coupled with suggestions for improvement. Please be assured that all suggestions accepted for improvement will be rewarded by way of enhanced services"


Mission
To be a preferred communications service provider and to offer state-of-the-art customized services to subscribers.
Vision
To be universally admired as an organization with focus on, customer care, employee satisfaction, business operations of the highest integrity, social responsibility, and to forge an enduring and profitable relationship with stakeholders.